This week
"The Greatest Threat" – February History Pub Speaker Series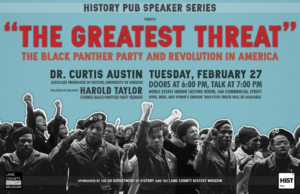 Speaker: Dr. Curtis Austin, followed by Q&A with: Harold Taylor, former Black Panther Party Member
February 27, Tuesday
Doors Open at 6PM, Talk at 7PM
Noble Estate Urban Tasting Room,
560 Commercial Street
Beer, Wine & Vinnie's Smokin BBQ
FREE Event
Dr. Curtis Austin is an Associate Professor of History at the University of Oregon.
Curtis Austin received his Ph.D. from Mississippi State University in 1998. He comes to the University of Oregon after six years at the Ohio State University, where he directed the Young Scholars Program and taught Civil Rights Movement history in the Department of African American and African Studies.
Austin's current research projects include a work entitled Dare to Struggle, which explains and analyzes the history of the Black Power movement. He is also completing work on a project that chronicles the history of the San Francisco 8, a group of former members of the Black Panther Party who in 2011 successfully fought to have the California court system drop charges of homicide stemming from the 1971 death of a San Francisco police officer.
This History Pub Speakers Series is a collaboration between the Lane County History Museum and the University of Oregon History Department.
---
Featured exhibit at the Museum now. Click on the image to learn more..
---